I have been watching a lot of Fashion One lately. It made me wonder whether the British aside from the stiff upper lip also just have a way of sucking the joy out of everything or is that just part of the stiffness of the upper lip. Maybe I am being unfair and resentful of the British man/woman's restraint, composure and good manners. The lovely lady -I forget her name- on Fashion One's British Style made me want to cry. The shop attendants made me want to throw a shoe. She made shopping seem like a chore. There is of course the fact that I am a bit of a hill billy (heard the Blake Shelton song) so maybe the weird whispering is just good manners that was not taught in my neck of the woods. But I could see how an American person would have made me want to go fly fishing by simply talking about the boots I needed to wade into some muddy creek. Of course the American person does try to make everything exciting (resulting in outrageous) probably to justify the "Brave and Free" thing.
Lets get back to the topic of the day. Watching Fashion One made me remember how much I always wanted to be a fashion designer. I dreamt of walking onto the runway surrounded by models in my clothes to the applause of jealous designers, stylists dying to work for me, celebrities clamoring for my designs, fashion reporters begging for an interview and lets not forget the flashing cameras.  You can tell I have always had too much of an imagination but if you have ever dreamt you know how it feels to think of the future. I made my first dress at ten, wasn't much but I was proud.
Now, I am not an assertive person, honestly I would make a perfect robot, soldier, C.I.A operative because I tend to do what I am told. I talked about fashion and design a lot,  unfortunately or fortunately someone kept asking me about who would give me a job. I obviously hadn't thought about that. We didn't have the Internet then so after a while I kinda gave up. I realised I had to find myself another thing that would get me a job. I ended up at a teachers college at 19 and I loved the opportunity it gave me to organize fashion shows but even this didn't make me wonder whether I could make a career outside of the classroom, my friends said "you are awesome at this" and I loved to dress the girls and boys and watch the "crowds" admire my genius (I am an artist I have a huge ego). I couldn't see myself disappointing my parents again (I had not done well in the K.C.S.E) so I did the realistic thing, the reasonable thing theorizing that all I needed was a good income.
Now you wonder whether I regret it and blame the persons who made me give up on  that. No! If I haven't done the things I wanted to do it is my fault, because deep down I hate taking risks. I could have tried for culinary school (cooking is my other passion) if the issue had been the job thing but truth be told I wanted everyone to like me and talk about how obedient and reasonable I was.
I am realistic, granted I love to teach (I also love being the smartest person in the room) but sometimes I wonder what differences I would have made in my life if I had chosen to follow a dream, would  I have made it or would I be living with 3 dudes like Jess (New Girl).
I am not saying you should follow your dreams or you should give them up.If you choose to follow your dreams be realistic. If for any reason you decide to give them up do it for the right reasons. Never give up on something you really want just to make people like you or so you fit in.You will find, like me, you may not regret your choice but you will always wonder "What if" and whether it's too late to try.
Piece of advice: Don't give up have a plan for before you hit the big leagues and one for if you don't.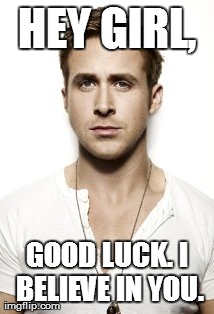 Plus keep a Ryan Gosling meme around to keep you psyched